Written on February 29, 2008 at 9:25 pm
Filed under:
Crafting
It has been a horrific week this week. Failed a chem midterm (haven't gotten it back yet, but I'm pretty sure that I did because I'm just that confident in my failing capabilities), passed my bio midterm (!!!) and still have a nice small mountain of work to do for next week. So today, after four hours straight of sitting in lectures and listening to people talk at me, I went home, watched some GH (turns out that we had cable problems, it didn't tape) for about 5 seconds before it went black, then I did random stuff before dinner, ate dinner, fixed my sister's bracelet and made this necklace with the green pearls that Kels got me for last year over spring break from Spain.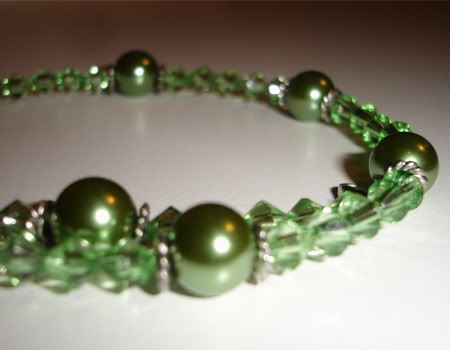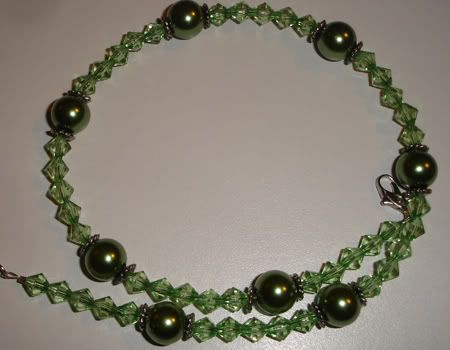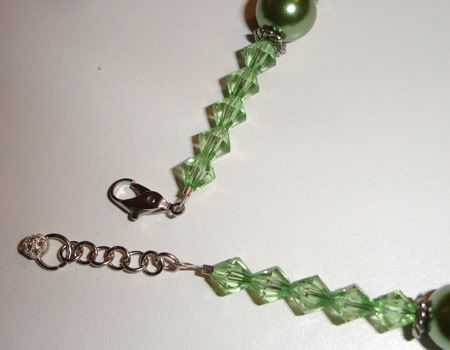 It has been quite a while since I've made anything for myself, so I'm quite please with it. It's kind of short, but not quite a choker. It's quite formal, actually, so I'm not quite sure what I am going to do with it. But it catches the light quite well, actually. The green beads are glass, the spacers are chemically antiqued to darken the silver colour, the wire is nylon coated beading wire and yes, there is a filigree bead on the end of the extending chain (which is, incidentally, my favourite part of it).
Comments Off

on Green with envy?