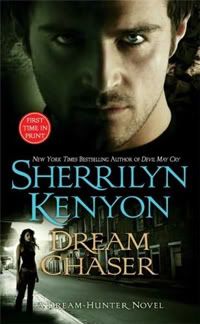 I recently had the pleasure of reading Sherrilyn Kenyon's latest installment in her Dream-Hunter series (which crosses over with her Dark-Hunter series). I am a huge fan of Sherrilyn Kenyon and love her paranormal romances, so when I came across this book that has only been out since February 5th, I couldn't resist picking it up for a read. The main hero is Xypher, a Dream-Hunter, who kind of made a deal with the devil (Hades) in order to get out of hell in order in have his vengeance against the woman that he loved (and claimed to love him, but ended up hanging up out to dry because she's a backstabbing and conniving bitch). The main heroine is Simone, a medical examiner who also teaches pathology at a local university, who happens to know Tate (he was introduced much earlier in
Night Pleasures
as the medical examiner who rescues Kyrian and Amanada) and can speak to ghosts, including the one that lives with her, Jesse. As a Dream-Hunter, Xypher lacks emotions and cannot feel anything unless he is in a dream, where he has his full powers. But having made a deal with the devil, he has some problems in actually keeping his powers in the human realm and the only way that he ends up getting his revenge, and staying alive, is if he can work together with Simone. He's incredibly surly and a pain-in-the-ass. He doesn't trust emotions, he doesn't like the idea of trust, having been betrayed before. But he's quite handy in a pinch, considering they keep on getting attacked by demons and his own half-brother. Oh yes, brother dearest is out for blood and it is very such an entertaining story.All of Sherrilyn Kenyon's novels, even if they're all tied together in a series, can be read together, in order or out, or as stand alone novels. Xypher (was first introduced in
Devil May Cry
) is insufferable , but the way his story unfolds, it's a little hard not to sympathize with the guy who gets the short end of the stick most of the time. A beautifully written paranormal romance,
Dream Chaser
works well as a introduction to the world of the Dark-Hunters and Dream-Hunters as it incorporates characters from past novels but it also works well as a story by itself because Kenyon provides background information for those new to her world.
For a story that has enough action to keep me turning pages and for the hero who makes me want to slap him (and want him all to myself at the same time), I give Dream Chaser: 5/5
Written February 8, 2008.