It's Friday! And that means the weekend!
Not that I have that much planned… I'm going to be going to the library again tomorrow as I have another hold to pick up (yet another smutty romance!). I might be going shopping with my sister J, I'm not sure yet. She needs to decide… I have volunteering on Sunday, as per usual. I'm also still not sure what my sisters and I will be doing for Father's Day.
In case you haven't noticed, my sisters and I have…. father issues. And my dad doesn't really have very many hobbies. According to my sister D, who spends quite a bit of time with him now that she's back home, he wakes up, eats breakfast, reads the newspaper, cooks, eats lunch, goes to my uncle's or goes grocery shopping or spends time with Photoshop, cooks, eats dinner, goes swimming, watches two hours of television, and then goes to bed. That's not a hell of a lot of hobbies. My parents already have a year's subscription for the newspaper that we have delivered every day. He already has a year's swim pass. And I don't feel like paying the cable bill.
What would you suggest that my sisters and I get for our dad? (Please do not suggest cooking, as he will complain about the food being too salty/too bland. No matter what it is.)
And I thought I would share this lovely little award that I was given by Caity (thanks Caity!).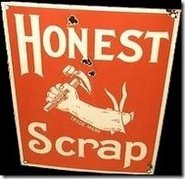 The HonestScrap award comes with a caveat or two. Firstly, you have to tell your readers ten things about you they may not know, but that are true. Secondly, you have to tag 10 people with the award.
Oh boy… Ten things? A list? That's a horrible acceptance speech! But here goes!
The ten things that you may not (or may…) know about me:
The one (and only) instrument that I can still play is the B-flat clarinet.
I have a fondness for reading personal finance, crafting and baking blogs.
My longest relationship (friendships and family ties not withstanding) prior to Clay was 2-3 weeks.
I go for a run whenever I'm really upset with something.
Since getting my ears pierced last August, I have changed out my earrings from the studs that I started off with exactly twice.
I fiddle a lot. With pens, with Post-Its, with necklaces, rings and bracelets. Just about anything.
I listen to songs on repeat a lot whenever I fall in love with it, or re-fall in love with it. The current song-of-the-moment is "Do You Hear The People Sing?" from the musical Les Miserables.
I used to hate musicals because my sisters liked them. I especially hated Cats because they would not stop playing the music. Now, I have several musicals that I love, but I still can't get over how horrible Cats is.
I have a habit of decorating flat surfaces in my room with knick knacks. And once I start putting knick knacks somewhere, they seem to multiply…
I currently have

three

four unfinished crochet projects in my room.
I give this lovely award to the following people:
And… You. (I cheat, I'm sorry.)