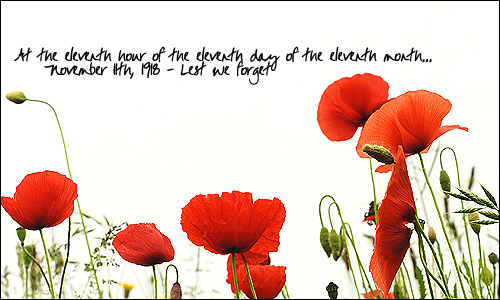 If you recognize the above photo, it's because I used the exact same image for Remembrance Day in 2009 and 2008. Last year I mused about my definition of a 'best friend' and the year before that I just wondered what everyone had been doing (according to my blog entry, I had been eating cake, reading smut and watching television – nice to know that some past times just don't change over the years).
On Tuesday, I had been waiting for the bus across the street from the yarn store that didn't have the right shade of brown that I wanted. I was approached by a man who wanted to know if I wanted to make a donation for a poppy. I dug into my purse for some change and gave him a small handful and he then pinned it to my jacket for me. He was wearing a uniform, I asked him about some of the medals that he had on. He told me about having served during the Korean War and didn't say much after that. Although he did ask if I was Korean, to which I said no. He asked what I was* and I answered with Canadian, which was a very acceptable answer to him as he smiled and wished me a good day.
Even if you're in a country that doesn't have Remembrance or Armistice Day, it's always a good idea to take a moment and remember about the sacrifices and hardships that those who came before us had gone through to ensure the freedoms and peace that we enjoy today. It's also a good idea to remember what the men and women in the armed forces are currently enduring – even if you don't believe in the cause, believe in the people that are there.
* I suspect that if he hadn't been nice, and if I was having a worse day, I would have been snarky and answered with "female" or "human".