But in my defense, I did need some of the things that I got today. Plus, I was shopping with my sister and my dad told her to put everything I wanted on the credit card that is linked to his account. So, in reality, I wasn't that bad. I mean, really, my parents are paying for it. Still, I managed to get almost everything on sale. So I mean, I do fairly decent in terms of getting things that were on sale (which was, umm, almost everything?). Other things that I bought today while out with the family was a giant box of Nature Valley granola bars (64 bars, 4 different flavours, $13) and sandwich fixings (non-Maple Leaf sliced meat, tomatoes, lettuce). Nomnom, food!
Now I'm going to go back to doing my biology assignment because I don't feel like doing it tomorrow.
Not shown is a pair of scrapbooks (12″x12″ standard pages) that was in a package for $7
From the childrens' clothing section: "Little Miss Chatterbox", long sleeve tee – $10 (marked down from $15). There was also a Little Miss Sunshine shirt that I wanted to get, however they only had it in extra small and small, and since it was a childrens clothing, I can't exactly fit into XS or S. As it was, this was marked as a large for childrens, size 14.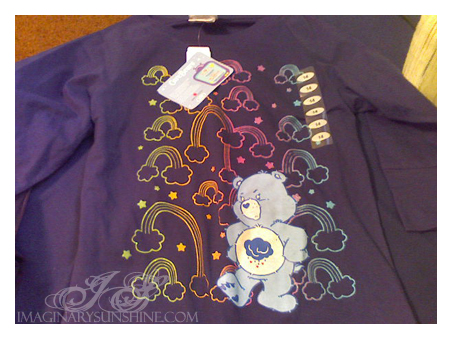 From the childrens' clothing section: Care Bears (Grumpy) 3/4 sleeve tee – $10 (marked down from $15)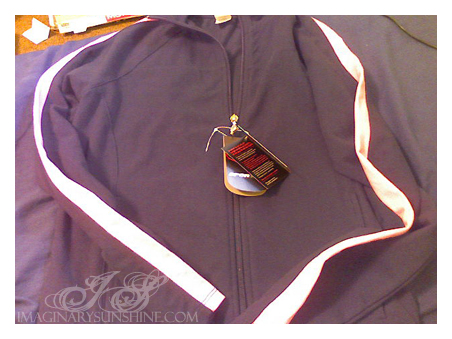 From the adults' section: 'Think Pink' (Breast Cancer Foundation) long sleeve jacket (the parts that appear white are actually pink) – $13 (marked down from $20)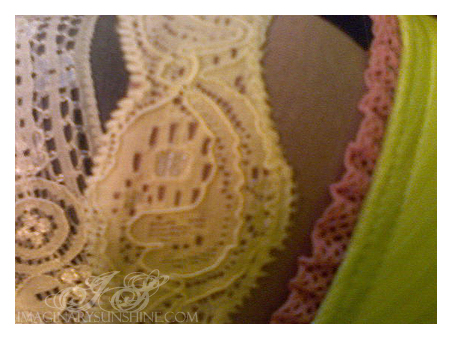 The unmentionables! The first two were marked at $17, but the cashier wasn't paying attention and one was $17 and the other was $8. The green one (it matches my bedroom walls, I am not kidding) was marked at $10 but the cashier inputted the price at $8.