Written on December 13, 2008 at 5:38 pm
Filed under:
Shopping
with tags:
candy
,
chocolate
,
clothes
,
food
,
sales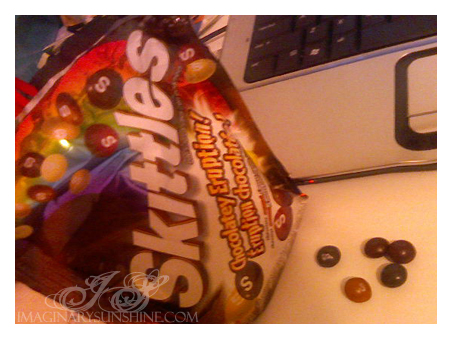 Chocolate Skittles. Seriously. I have never seen them before and then I was wandering a dollar store in the mall and there they were. In all their shiny, chocolatey glory. All for a dollar. Other interesting things include a clothing store that was going out of business in which my sister and I went through the clothing and actually managed to find things that we liked and in the right sizes. She got a light blue skirt (that I picked out) and I got a light lime-ish green skirt with a black pattern. Definitely spring/summer wear, unless I can find something to keep my legs warm. And other than that… I'm going to go back to studying memory for my psychology final.
I hope everyone has/had a great Saturday.