Meet… Gwen and Albert.
Clay picked their names. I sent him a text asking for two names (one female and one male) and they had to be 'old' sounding. You know, like names that you'd expect people to have in the 1920s. Or something. And that's what he came up with: Gweneth and Albert. But, you know, Gweneth is just too… long when it comes to saying something like "Gweneth and Albert". And it's a mouthful since Albert is two syllables, so I shortened her name so I wouldn't be calling him 'Al'. Because that's too short. So it's Gwen & Albert. Two little mice. Who now live in my room (who would have thought I'd be excited about having rodents in my room…?).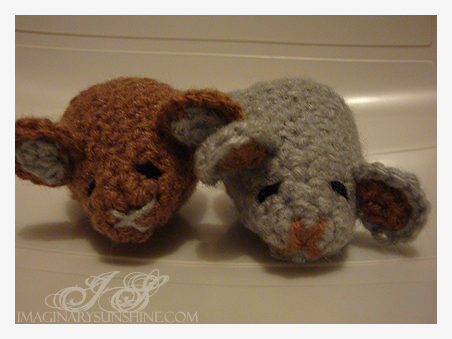 They're two little sweethearts. And absolutely in love with one another. Plus, they match! I made Albert first (he's the grey one) so his eyes are a little wonky (it's either his eyes that are wonky or his ears, I'm not quite sure which…). I improved on Gwen by doing her face before I stuffed her full of polyfill, which I think improved it overall. Plus, the ears are a pain to stitch on when the body's all puffy after being stuffed closed. Both of them are approximately 10cm in length, not including the tail. Gwen's looks a little chubbier than Albert in some of the photos – she claims that the camera adds 10 pounds onto her tiny frame…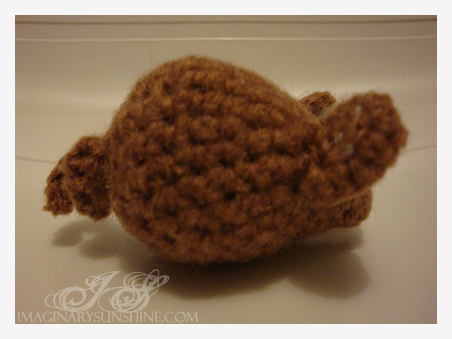 This is Gwen's really curly tail. I'm not quite sure how that happened. I can stretch it out, but it bounces back. I did it slightly different than Albert's tail as I'd crocheted into the back loops rather than under the V's…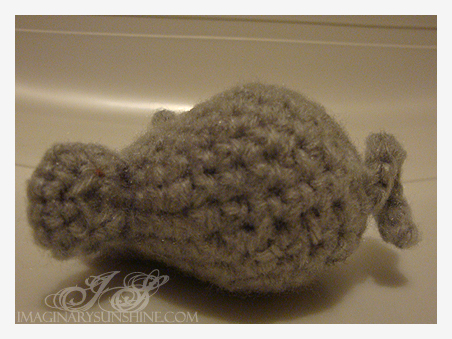 This is Albert's tail, it curls a little, but can be straightened a lot easier than Gwen's can. He's more flexible that way.
And here are the two love-mice again! Yeah… Here you can see how wonky Albert's eyes/ears are… Let's ignore that. Plus, I may have done something weird with his nose… Ugh. Maybe that's why I think Gwen is a much nicer model? Who knows…
The pattern is from KristiMN over at the crochetville.org forums! Click here to go check it out. The pattern calls for worsted weight, which is a decent thickness for yarn. Worsted weight is a #4 yarn. I used baby/fingering weight yarn. Which is a #1 yarn. I crocheted the bodies and the tails in double strands of this yarn (… never again). I used single strands for all parts of the ears, I used worsted weight black yarn for the eyes.