My sisters J, D and myself went out this morning to go shopping at the crafts store. I have no clue why they were really having a Labour Day weekend sale (I guess it's because it's a holiday and it makes good business sense to have a holiday when more people can show up?), but they were, so we decided to do. Both of my sisters went crazy in the scrapbooking section for scrapbooking papers and the acid-free stickers. Me? Well, I went through the beads section (didn't find anything nice to use my 50% off coupon on, but I did find things I liked in clearance!) and the yarn section. I was actually quite restraint today in my purchasing, which was nice. My sisters on the other hand? A touch crazy with the "Ohhhh, look at this paper!" and "MICHELLE! LOOK HOW CUTE THESE STICKERS ARE! *swoons*". But it's okay, they're bonding over their mutual love for glitter glue, fancy edge scissors and "zomg, look at these patterns!".
Mmm, Red Heart Super Saver (100% arcylic) in Orchid. Not the kind of yarn you'd want to use for say… clothes. But it works very well in amigurumis (crocheted stuffies!) because it doesn't stretch a lot when you're stuffing it (and, in turn, the stuffing doesn't show very easily). I see a hippopotamus in this yarn's future.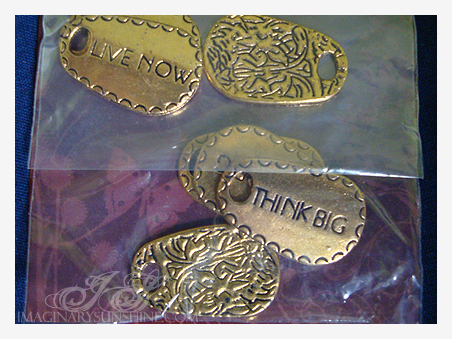 4 "Think Big" charms, 3 "Live Now" charms. I was smitten by these. I love using little tags near the clasps of my necklaces (I bought a package before that had things like 'Love', 'Imagine', 'Live', etc.) so when I saw these, I was sold. Plus, you know, they're just darling and the design on the non-text side was cute as well!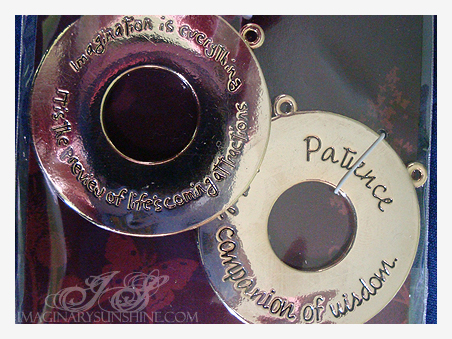 Pendants! The one on the left says "Imagination is everything" at the top and "It's the preview of life's coming attractions" at the bottom. The one on the right says "Patience" and "It is the companion of wisdom".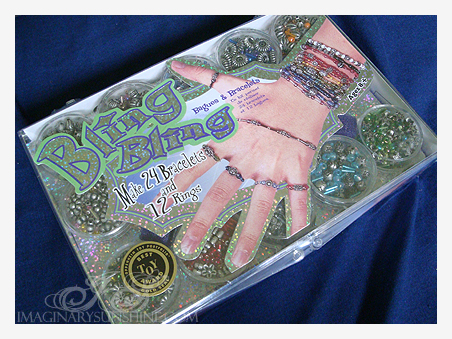 Definitely not a craft item I normally buy. I haven't had a pre-made bead kit since I was about 8 or 9! But I saw this and was fully amused. And it was priced at $2.99, so I figured I didn't have much to lose. The original price was $24.99 and there was about a dozen more of these sitting on the shelf with a big yellow sign over them marked 'Clearance'. I'm not surprised that they were on clearance, but for the price of $3, I felt that the materials weren't that shabby.  The selection isn't that bad at all, actually. They looked a bit shabby when I first bought it, but then I discovered it was because the shrink wrap was incredibly dusty and scratched up and made the box and, subsequently, the beads look bad. It all looks a lot better in real life and I'm quite pleased with it, actually. And not just because of the price. They come with some nice extra snappy-lid containers that I've already filled with other beads.