I just felt like showing off what my family's been going on about since Thursday (that's not related to death or travel plans… because that's depressing. And I don't need any help feeling down at the moment.)…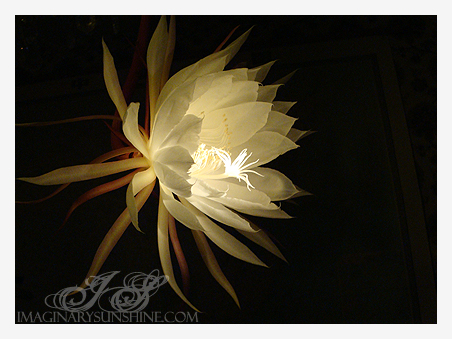 The plant above is a Nightblooming cereus. It's a type of cactus and my mom obtained it via a cutting she took from one of her friends' plants. It spends most of the year indoors, except for summer when it soaks up a lot of sun outdoors. It's one of my favourite plants because once it starts having buds, they form very quickly (from just a hint of a bud to several inches long within 2-3 weeks). It only blooms at night and the flower is only around for one night. It's incredibly fragrant and smells quite nice, there's a lot of different variations of it (white petals, pink petals). The plant itself kind is green and yellow-green, the area around the flower itself is a really nice pink colour. My parents will make a huge deal about it every year because it only flowers one a year (and for only one night). So, needless to say, they had my uncle and aunt who live close by over on Thursday night, and some of my other relatives were watching the progress of the flower via the webcams.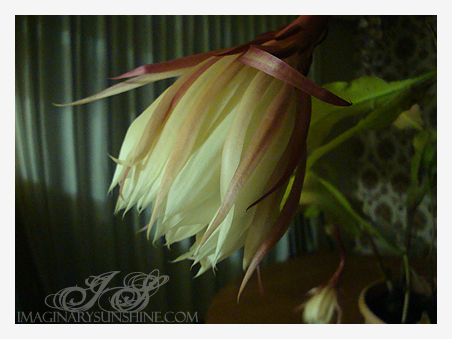 This is how it looked at around 6am the next day (when I was about to leave the house for school on Friday). By the time I got home after volunteering, the flower had completely wilted. There were 3 flowers on the plant this year and all three were 9-11 inches in diameter. It's a really gorgeous plant, and I'm not sure how easy it is to obtain it (via cutting or a whole pot). It seems to thrive fairly well in a pot (not as big as others I've seen online, but then again… it's my mom's plant and she needs to be able to actually move it from points A to B with something resembling ease).
Questions:
What is your favourite plant (flowering, non-flowering, doesn't really matter)?
How much gardening do you do, if any?
What kind of camera do you use? (Somewhat random, I realize.)
My answers:
Daisies! The ones with white petals and yellow centres. I also like some lilies and some types of roses.
Not very much, I'm afraid. I have some seeds that still need to be planted, but I'm waiting for it to be right after winter first.
Sony Cybershot W150 (have been looking into a DSLR though… again)