My psychology prof finally came out with final exam marks. Oh, and then he came out with final course grades. On the file, I had high 70's for a grade. At first, that seemed fine to me. And then I did the math (according to his course grade break down).
The grade that he had for me? 5.25% less than what it should have been. I emailed him with my math to show him how I came up to my grade (which would be a solid A, if he fixes it before submitting final grades!)
Anyways… I did a little shopping today at my school's bookstore. I desperately needed highlighters (I tweeted about it sometime during my December finals time – I ran through 3 yellow highlighters while studying for my cell biology final!) as I no longer had any. So I bought some! Luckily, they were running a little promotion… So I got these little beauties (Staedtler Textsurfer Classics) and two books from the bargain section. Fabulous colours, no?
Arranged for fun: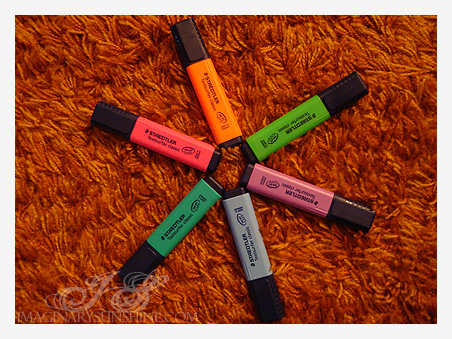 This is more true-to-colour (I don't know why the pink one in the first photo looks so orange!):
From left to right: blue, green, pink, purple, orange and this gorgeous teal colour. I didn't get yellow (same price as the rest) because I wanted fun colours – plus the yellow was too bright for me (if that's possible?).
The books I got were Survival of the Sickest: A Medial Maverick Discovers Why We Need Disease by Dr. Sharon Moalem with Jonathan Prince and Charming: The Magic of Charm Jewelry by Deborah Alun-Jones and John Ayton. The second is for photo-inspiration for when I'm trying to figure out what to make with my beads, the first is for fun reading (because who doesn't want to read a book entirely about diseases?). Both were discounted to $6.99 (one from $30, the other from $22). Photos!