I may have went shopping today. And these photos may be photographic proof of what I bought today…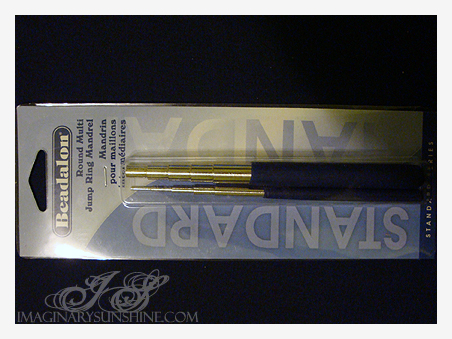 Round Multi Jump Ring Mandrel (by Beadalon! My crimping pliers are by them as well).
2 pieces (obviously) with the following diameters: 1.5mm, 2.0mm, 3.0mm, 4.0mm, 5.0mm, 6.0mm, 7.3mm, 8.2mm, 9.0mm and 10.0mm. I commonly use 4.0mm, 5.0mm and 6.0mm. Bought this on clearance for $5.38. I don't use as much jumprings as, say, someone who makes chainmaille, but I use enough that buying them premade from the store gets to be a little bit (okay, VERY) pricey after a while. I have wire already and I've made some before so I figured I'd give this a try. (Just so everyone knows, wrapping wire tightly around a wooden dowel and then trying to slip it off without hurting yourself is a difficult task – keep bandages around.)
3 vials of beads at $2/each. All glass beads (striped glass, they sort of remind me of candy; matte white glass; frosted rainbow assortment of glass seed beads, all very uniform in size).
Shell beads! 'Taupe' coloured flower-shaped shell beads (the label says 'taupe', I say 'honey' or 'caramel') and rectangular pink shell beads. On clearance at $0.99/strand (16″ long) from $12.99.
Swoons, my favourite part! Vintage silver bead caps (10 pieces), vintage spacers (haven't counted, but it's 20+ pieces) and teeny little flower spacers (swoons) (too many pieces to count just yet, hah). All three bags for $5 (which I honestly would have paid for just the vintage bead caps alone).
So all in all, a good day. Didn't buy anything essential (for instance, I really need a new pair of roundnose pliers!), but I love having new components to work with. =)
Hope everyone had a lovely day.