I went shopping today (yay). K was nice enough to accompany me as I went to the bakery to place an order for a birthday cake and then to the store to get my gift to myself (and no, it wasn't a birthday cake for myself!). And… just in case you haven't noticed yet, there is indeed a new theme up (some new colours, a new header).
My (plant biology) lab partner R and I went mushroom hunting and found this lovely large mushroom (and I'm taking large, the diameter of the cap of the mushroom was probably nearly 20cm!) and it was perfectly intact (until we cut a piece out – on purpose) and smelled quite nice. Didn't take any photos of that though, because after we cut out a piece, it wasn't look so pretty anymore. Plus, I can't really capture the smell of a mushroom on camera (sadly).
Feeling pretty overwhelmed still, when it comes to my organic chemistry class. I got perfect on the prerequisite review material (thank goodness! I'd be really worried if I didn't at least get a decent mark on that assignment). However, there's still a few more assignments (based on new material) and I've printed out 3 practice sample midterms (I have my first midterm – unfortunately in organic chemistry – next Thursday, October 8) and I suddenly feel not so great about chemistry (at all!). Especially since a lot of the questions seem to be more theory based (like… If X and Y occur with compound A, which item will cause compound A to reaction – please state your reasons). So I'm pretty sure I'm going to be living, breathing, and sleeping organic chemistry for the rest of the term (starting now… only stopping to have flings with cell biology, plant biology, psychology and the boyfriend, of course!).
But umm… Yeah, here's my little gift to myself: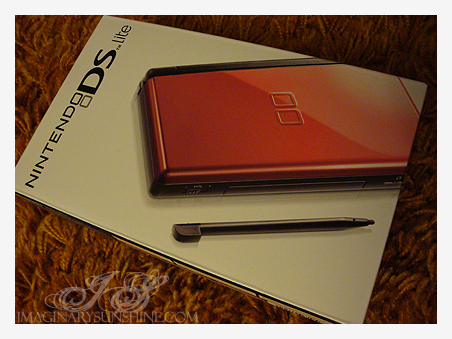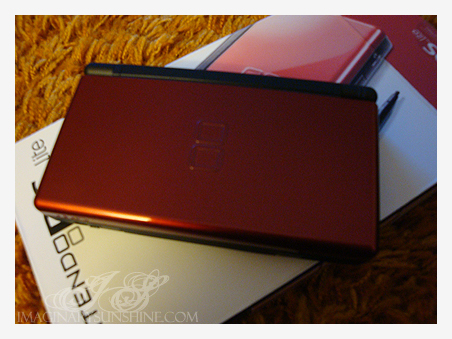 I like my little indulgences… As long as they don't occur too often.
Questions:
What is the last thing/person/event that made you feel overwhelmed?
What's the last little indulgence purchase that you made for yourself?
What is something happy that you've got right now in your life?
My answers:
Organic chemistry. Hands down.
My crimson/black DS Lite.
My family, my friends (whom I definitely, as a collective, do not see often enough, but it was wonderful seeing K today!), my sweetheart (♥♥♥) and… my dolls? They do make me happy just standing around, looking pretty.