Lah de dah… Today's been kind of a wash. I spent today: eating (…), studying (biology), listening to people sing (a.k.a. the choir) and more studying (biology).
My sister (J) is in a choir and they had a performance today at a local mall, so my other sister and I went and took loads of photos and videos of her and her choir for my mom. Which was fun, D ran through an entire formerly fully charged battery for her camera (she has a Nikon Coolpix) and I went through about a quarter of my battery (Sony Cybershot). Suddenly, she's not so impressed with her camera and its battery life. We went out for lunch and ended up eating at the food court in the mall because the IHOP was full of people (granted, we got there at around 11:30am – hello, lunchtime!) and we all got different things – J got 5 pieces of chicken nuggets from KFC ($4.19), I got a Torpedo from Quizno's ($4.20) and D got a burrito from Taco Time ($4.29). We all agreed that J's meal was a rip off (she wasn't feeling that hungry and just ordered any old thing) and that D's burrito was definitely a little lackluster as it was incredibly flat and lacking in the cheese department. Me, I had no complaints about mine (mmm, beef, bacon and cheddar? Don't mind if I do!).
After the performance, we went shopping and I got this hoodie which ended up being the subject to a funny conversation. See, because I'm (relatively…) short, I tend to buy clothes in the youth section rather than the adult section. Which is fine by me, as clothes for kids tend to be less expensive than an equivalent in the women's department. So this is the hoodie that I got (ignore the clutter that you see, and the fact that my sheets are wrinkled beyond belief – no one, besides the internets, sees them, so I have no need to make them all nice and neat to impress anyone, hah)…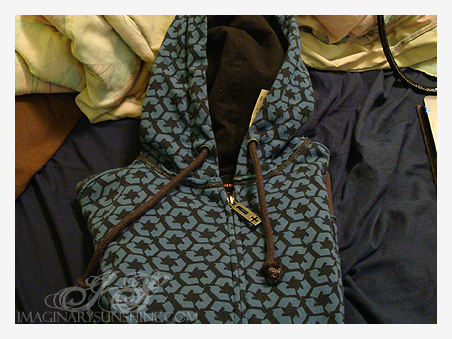 Original tag price: $32
Sale price: $18.88 + additional 40% off ($11.33)
It's also from the men's department, adult size small and it's super comfy. It's also a bit long in the torso and in the sleeves, but since it's a hoodie, I figured it didn't really matter too much. Did I mention that it's super comfy? My sister brought up the fact that I normally buy clothes in the youth/kids section, and hardly ever the women's section unless I find something that I really like that is also on sale, and now I'm getting hoodies from the men's section of the store. I replied with "Well maybe if they had some decent hoodies in the women's section that I could actually see myself wearing…".
Needless to say, my sisters were impressed that I didn't go for a hoodie with My Little Pony (first of all, I don't even like the new MLP, vintage illustrations and toys were so much better, and secondly, the hoodie went up to the largest toddler size – I'm not that disillusioned about what size I wear, thanks). Which reminds me, I still haven't taken photos of the clothes I got in November. But I'm done buying clothes for now, as after I finish cleaning out old clothes from my wardrobe, I'm pretty sure I'm good until summer rolls around.
Also, I took this photo today of one of my dolls in a knitted coat that I made last week (the pattern is a vintage Barbie coat that someone posted on the internet). Just wanted to share, because I adore her so much (she was my first Blythe and definitely one of the reasons why I got two more!):