So today started off pretty well. I only had one class today (no lab because my plants lab final is next week) so I was only at school for a short period of time. I went to the crafts store to pick up some things that I needed for a project that I want to start and new yarn needles as they keep on disappearing on me (boo). So I showed some self-restraint and left without spending more than $15, which was a pretty awesome feat (hah). Things that I bought:
1 close-ended zipper (light brown with silver metal teeth – for crocheted Sack Boy that I'm freestyling – yes, I know that in the images for Little Big Planet, he is clearly knit, but I don't have the skillz necessary to freestyle knit an amigurumi)
1 ball of Nashua Wooly Stripes in Blackened Jade (for knitting doll hats to felt)
3 balls of Rowan Ribbon Twist in colour code 115 (for a cowl, for me!)
2 balls of Regia sock yarn in shades of greys and blues (for first attempt at knitting socks or for making doll clothes)
2 metal yarn needles/darning needles (… because my sister keeps on losing the ones that we have)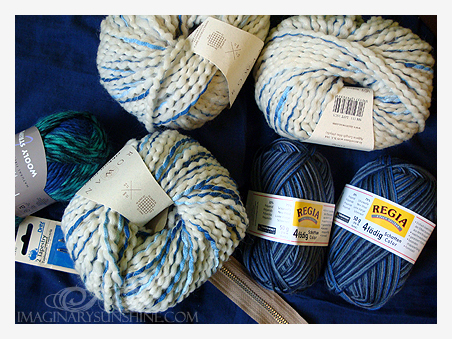 All in all, it was an excellent and oh-so-productive trip. Beyond the colours of yarn that I had bought, they didn't have anything else new that I was interested in.
Anyways…. Then I came home, and checked my email and by some weird twist of fate, one of the schools that I applied to for their nursing program sent me an email (redirected to my regular email since I don't regularly check 'my' other school emails since I don't attend their schools) to inform me that I had 'important information' waiting for me regarding my student status with them for September 2010. And since I'm not jumping up and down with joy, I'm sure we can all make assumptions on what this important information regarding my student status was… Not to say that I'm not disappointed, I am incredibly disappointed with that. But at the same time, schools in BC have very limited spots for prospective nursing students. For every seat, there's 4 to 5 students who want that one seat. Competition is… well, competitive. =/ Guess I'll have to wait and see what the other schools say! I'd be lying if I didn't say that my heart was pounding so bad when I was waiting for the page to load that I could hear it (it wasn't as bad as the time for my 19th birthday when I drank too much too fast though, but that was alcohol induced and this was just my hyped up anxiety).
And no, that was not an April Fools Day joke.
Hope you all had a lovely April 1st and that no one pulled any pranks on you with lasting physical impressions, teeheehee.